[vc_row][vc_column width="1/6″ offset="vc_col-lg-1/5 vc_col-md-1/5 vc_col-xs-1/5″][us_image image="77844″ size="thumbnail" align="left" style="circle" has_ratio="1″][/vc_column][vc_column width="1/12″ offset="vc_col-lg-4/5 vc_col-md-4/5 vc_col-xs-4/5″][vc_column_text]By Dr Peter Gangemi – Mayor of The Hills Shire Council[/vc_column_text][us_post_date][/vc_column][/vc_row][vc_row][vc_column][vc_column_text]
I am encouraging The Hills community to come to the joint Australia Day and Indian Republic Day ceremony on the 26th of January at 8am at the Centenary of Anzac Reserve in Kellyville.
The program will include Australian and Indian music and dance performances and speeches from dignitaries. The ceremony will be followed by a Snack and Chat session by the India Club and Tea, Coffee & Snacks served by the Project Barista Connect Team of The Community Foundation Of North Western Sydney.
The Hindu Federation Of Australia will also have their library open for display and will be distributing kites to fly to celebrate the occasion.
I'm looking forward to seeing you there!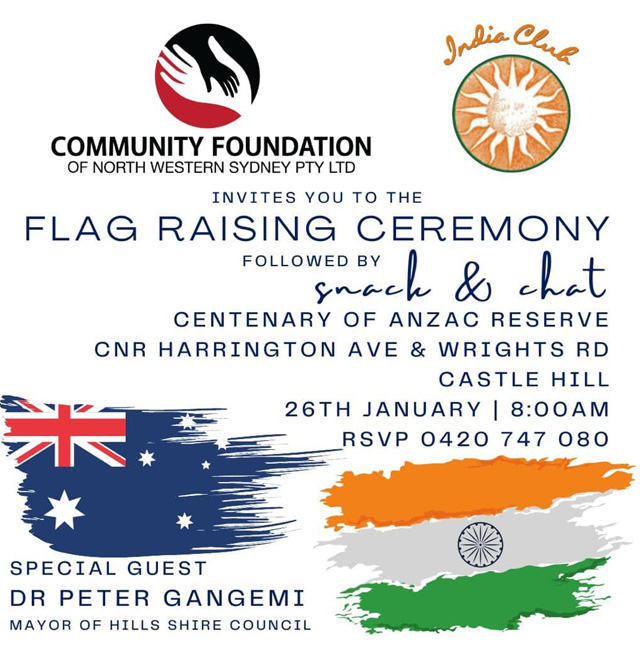 [/vc_column_text][/vc_column][/vc_row]