The Australia Day Achievement Medallion acknowledges individuals for their contribution to the nation and their outstanding performance as a citizen of Australia.
Rowland Village resident Alan Buxton was considered worthy of this award. Alan was born 4 December 1920 and served in both the Australian Army and Royal Australian Air Force during World War 2. After demobilization in February 1946, Alan graduated as an accountant and was employed by Shell until he reached the companies compulsory retiring age of 60.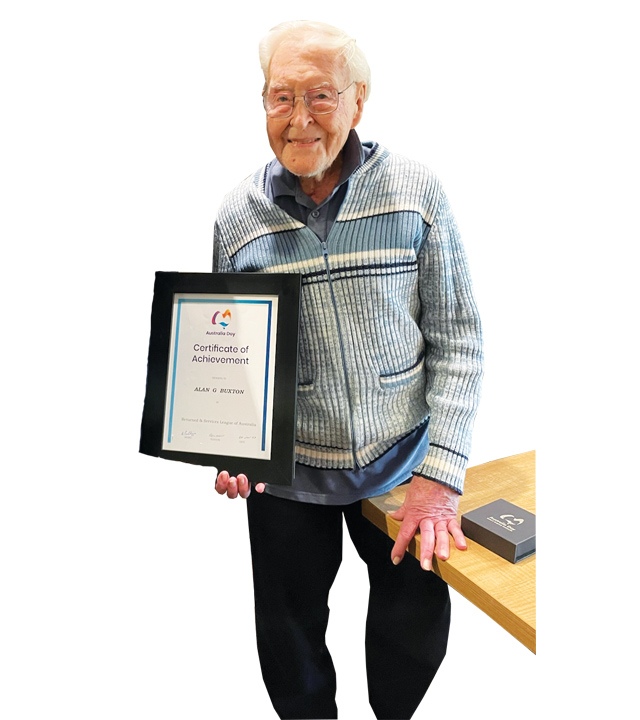 Alan joined the Parramatta RSL sub-Branch and served with distinction. He moved into Rowland Village in 1980 where he quickly became actively involved, – treasurer of the residents committee, member of the gardening club, finance committee, fellowship prayer group. He was instrumental in establishing the Rowland Village Golf Course and actively played. He also was active in the Hills District RSL sub-Branch until it folded becoming a Chapter of the Glenorie sub-Branch, currently controlling the Chapters Finances.
Alan was a keen cricket player with Epping Cricket Club, played tennis until well into his 80's and was a social golfer. His left-handed clubs still get a regular workout although they are swung by a different set of hands. Alan survived a heart attack at age 64 and had a quintuple by-pass aged 84.
Recently Alan was awarded the French Legion of Honour Medal in recognition of his service to the liberation of France.
Alan, you are a truly Amazing Australian and I am honoured, on behalf of the Glenorie RSL sub-Branch, The Hills District Community and The National Australia Day Council to present you with the Australia Day Achievement Medallion 2023.
– GRAHAM BRUCE, Hon Secretary, Glenorie RSL sub-Branch