By Susanna Mills
JJ Melbourne Hills Reserve is a highly valued, public recreational hub for offroad cycling in Terry Hills and surrounding areas. BMX, Pump, Jump, Dual Slalom, Cyclo-Cross, Cross Country and Gravity Enduro events and social activities are consistently taking place here. And if that's not enough outdoor fun for you, our horsey friends are also hosted here via events overseen by Forest Hills Pony Club. If deciding to visit here from Galston or Glenorie, it may be a very good idea to roll out of bed before sunrise and arrive early on weekends or during school holidays to beat the crowds!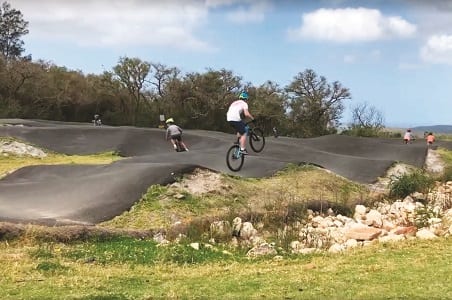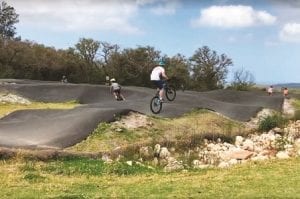 There has been a pony arena and a BMX track here for many years. The pump track, however, was only built in 2018 by Dirt Art with joint funding by Northern Beaches Council and the NSW Governments 'Stronger Communities Fund.' This pump track is a banked, contoured study of asphalt creases, guaranteed to deliver dollops of fun, self-confidence and an elevated heart rate to tiny tots and airborne adolescents. For minders or a family picnic, the grassy, elevated setting of all the tracks here is amazing; there are panoramic ocean views out across Deep Creek and the embracing ridgelines and rock platforms of Garigal National Park. Through the weeds, the eastern border of this reserve is fringed by native bushland, through which you can link to other areas via several well-used singletracks and connecting firetrails.
Bicycle riding tracks consist of the following delectable Smorgasbord…
1) Asphalt pump track: No pedalling necessary and plenty of room for everyone.
2) Dirt BMX Track with three high-banked asphalt berms. Ride this lovely dirt river for sheer fun- it's like rafting for bicycles! Kudos to Manly Warringah BMX Club for their volunteers, who keep this track exceptionally well maintained.
3) Dirt jump track: built in a 'two up' dual slalom format: at time of writing, this new addition looks only a few weeks old. Not recommended for beginners and judging by the step-ups, intermediate riders had better scope it out first.
4) Cyclo-cross (CX) criterium course: Quarterly MTB Short Course racing and CX racing with Manly Warringah Cycle Club at this venue: Licensed riders only.
5) Gravity MTB trails: As yet unsanctioned, unmarked trails, ride at your own risk.
Pony Express: Beginners gravity trail: Exit back up Kamber Road
Gugenheim: Intermediate gravity trail: Exit back up Kamber Road
Bundy: Experts only- this is an extreme, technical mtb gravity enduro trail: Exit via Angry Goat to Kamber Road, or continue down to Narrabeen via Deep Creek trails.
Embracing diversity in outdoor recreational activities that are social and occur in mostly unstructured formats should be both facilitated and encouraged. Communities throughout Greater Sydney need way more inclusive Reserves like this one which, on a deeper level, creates a real sense of belonging and place attachment.