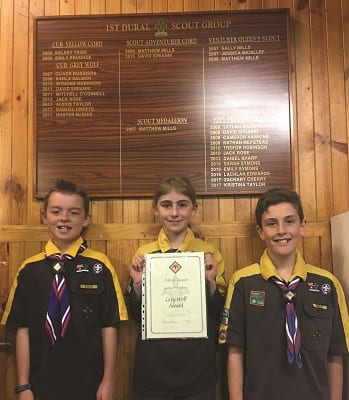 The 'Grey Wolf Award' is the highest achievement award a Cub can obtain. A few months ago, Patricia Shaw, the Commissioner of Cub Scouts visited us to present three of our 1st Dural Cubs, Alexis Taylor, Hunter McGhie and Samuel Crofts their "Grey Wolf Awards".
Many hours went into successfully achieving these awards, the Cubs needed to obtain their 'Gold Boomerang' award; attend pack councils, plan and guild hikes, camps, outdoor activities, work on projects, research, dioramas, community work and complete a Special interest badge as well as 4 Level two badges!
Their families were very proud of all the children's hard work andcommitment. This award has not been presented at 1 st Dural Scouts for the last 5 years. Congratulations and well done Lexie, Hunter and Sam.
A big thanks to Wren and the leaders for their guidance too.
For more information or to join 1st Dural Scout group Please contact Warrick Mills 0417 689 571 Email [email protected]